New e-commerce service with ZIM shipping line in progress,
The port also begins the operation of new ultra-large cranes
Annapolis, MD— Governor Larry Hogan today welcomed the Helen Delich Bentley Port of Baltimore's newest container liner service, the ZIM e-Commerce Baltimore Express (ZXB) from China and Southeast Asia.
ZXB is part of Israel-based ZIM Shipping Lines, one of the world's leading container shipping companies, and service will begin with a bi-weekly frequency and increase to a weekly frequency within a few months. The addition of ZXB complements the port's strong e-commerce capabilities and proximity to regional distribution centers.
"In December, I met with Eli Glickman, CEO and President of ZIM, to encourage their company to bring shipping across the state of Maryland," Governor Hogan said. "Now we are thrilled to announce that the ZIM e-Commerce Baltimore Express, or ZXB, will provide customers with Asia's fastest transit time to Baltimore, guaranteed space and amenities, and rail, air and expedited road trips to domestic destinations. Our port is truly open for business and today is the next exciting step.
(Watch.)
ZIM operates a fleet of nearly 100 vessels with a global footprint, including trade lanes in the Trans-Pacific, Atlantic Crossing, Suez Crossing, Intra-Asia and Latin America. The Maryland Department of Transportation Maryland Port Administration (MDOT MPA) worked with a public-private partner, Ports America Chesapeake, to bring ZIM to Baltimore.
ZXB is operated exclusively by ZIM and offers customers the fastest transit time between Asia and Baltimore, as well as guaranteed space and equipment, and late cut-off times from Asian ports. The service also provides dedicated out-of-gate lane and expedited rail/air/road connections to inland destinations.
In addition to ZIM, the Mediterranean Shipping Company, a new service to the Indian subcontinent and the Mediterranean, recently started at the Port of Baltimore.
"We are proud and excited to mark the first arrival of our new ZXB line in Baltimore," said ZIM President and CEO Eli Glickman. "ZXB is part of a larger vision for ZIM: to provide efficient, fast and innovative logistics solutions to our customers, especially during a time of severe supply chain disruptions. The Port of Baltimore offers unique opportunities to make our vision a reality.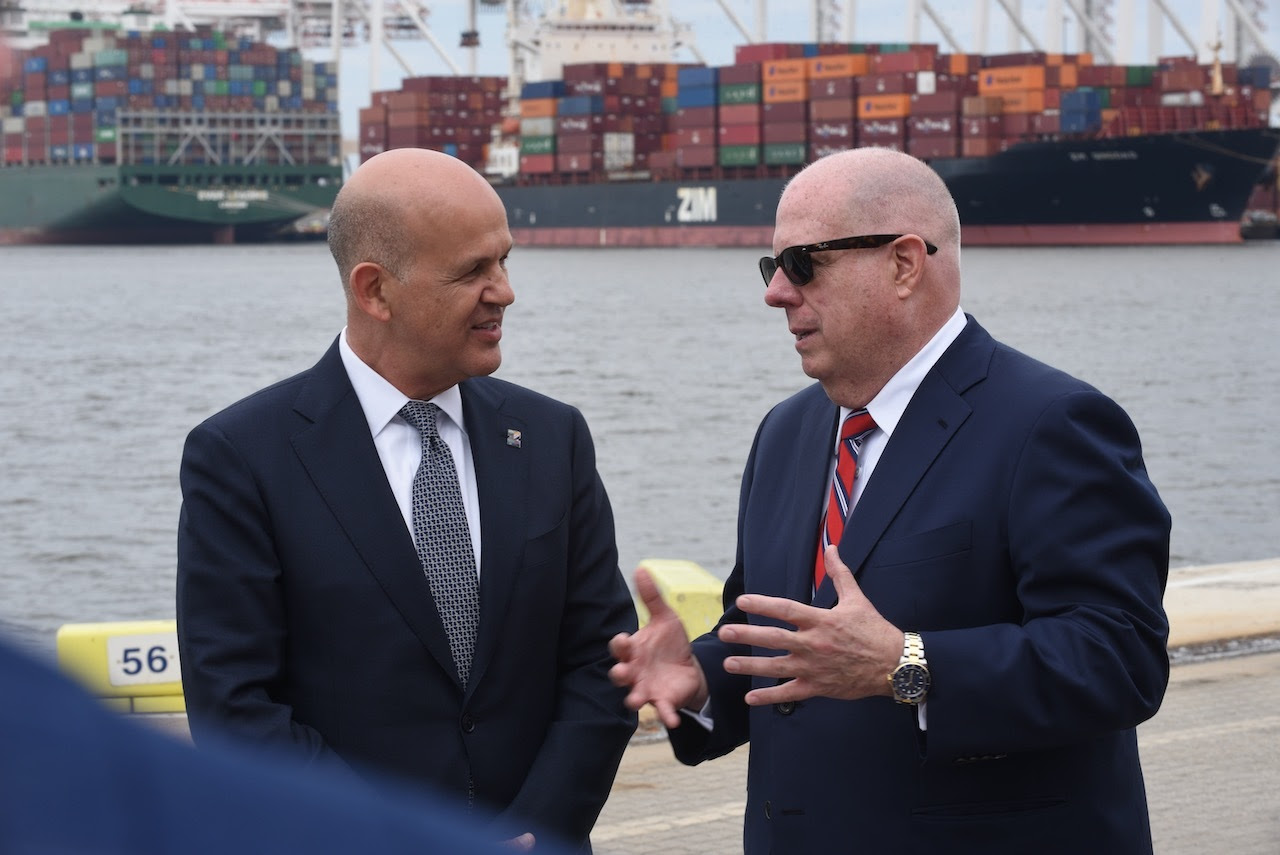 The Port of Baltimore, the largest e-commerce port and one of the busiest ports in the United States, generates approximately 15,300 direct jobs, including more than 140,000 related to port activities. The port ranks first among ports in the country for the volume of automobiles and light trucks, rolling agricultural and heavy construction machinery, and imported gypsum. It ranks 11th among major US ports in foreign cargo handled and ninth in total value of foreign cargo.
"This is huge news for the Port of Baltimore," said Port of Baltimore Executive Director William P. Doyle. "The ZXB is an e-commerce based service and reflects Baltimore's strong capabilities as the nation's premier e-commerce port. With our second set of ultra-wide Neo-Panamax cranes entering service, our future double-stack rail capabilities under consideration, and our incredible network of regional distribution, processing and sorting centers, the future has never been better for the container business in Baltimore. . I want to thank Governor Hogan and all of our friends and colleagues in the Port of Baltimore and the great state of Maryland for their support, hospitality and friendship.
The port recently added a second 50ft berth and welcomed four massive new Neo-Panamax container cranes to provide even greater capacity and efficiency, and to help handle the increased traffic volume of containers. In November, the governor inaugurated the Howard Street Tunnel Expansion Project, which will rebuild the tunnel to accommodate double-stack container trains to and from the port.